Specialized Turbo Creo SL Expert 2021 Abalone/Spectraflair
?
Cena zahrnuje splátku a pojištění kola
měsíční splátka na 24 měsíců
Popis
Máme dlouhou historii vývoje nejvýkonnějších silničních kol na světě. Tarmac, Venge, Roubaix, Allez, Diverge – každé z nich ovládá svou kategorii a nabízí nejlepší technologie v oboru. A je to těžké doplňovat tento seznam vítězů. Turbo Creo SL mění definici, co je skutečný výkon e-silničního kola. Je lehké, schopné a živé, jízda je hladká – to vše s mocí zploštit hory, smát se v protivětru a jet dál, než jste si kdy mysleli, že je to možné. Jsi to ty, jen rychlejší. Turbo Creo SL Expert EVO je postaveno na karbonovém rámu Fact 11r. Ano, to je stejné na modelu S-Works a navíc získáte také nový Future Shock 2.0. Do specifikací jsme zahrnuli elektronickou sadu Shimano Ultegra Di2 s XT zadní přehazovačkou, 1-převodníkem a 11-42t kazetou, která se postará o řazení, brždění mají na starosti kotoučové brzdy, zatímco Roval C 38 Disc karbonová kola se zabalí do 28mm pneumatik Pathfinder Pro 2Bliss Ready, které se krásně odvalují, jsou rychlé a pro Vás bezstarostné, bez ohledu na terén. Součástí balíčku jsou naše Adventure Gear řídítka s 12mm prohmutím, představec Future Stem Pro, X-Fusion 50mm Manic Dropper sedlovka a naše super populární sedlo Body Geometry Power Sport. • The Creo SL is the lightest e-bike in its class—literally kilograms lighter than the competition. Not only does the lightweight and stiff FACT 11r carbon frame inspire dancing on the pedals and diving into corners, but it also reduces overall system weight and increases the range. • The lightweight SL 1.1 motor doubles your effort with as much as 240 watts of silent and powerful assistance to amplify your ride. The motor's responsive torque curve delivers power perfectly in-tune with your normal riding cadence and leaves no resistance when riding unassisted. • Battery anxiety? Not on the Creo SL. With up to 80 miles of range from the internal battery, the Creo SL eats up big miles and long days. Our optional range extender provides up to 40 additional miles of mountain-flattening power. • By connecting with our Mission Control App, you're able to tune the SL 1.1 motor to your riding style, record rides, and monitor the battery. The app can handle battery management automatically too, ensuring the battery will last as long as you need it to. The motor even has a built-in power meter that transmits to any ANT+ head unit. Don't want to connect? No worries— the Turbo Connect Unit (TCU) on the top tube gives you all the control you need to ride. • With the Future Shock 2.0, you'll feel a reduction in fatigue and an increase in speed, no matter the terrain. The 2.0 iteration gives you more control via a knob atop the stem. This knob adjusts • We've learned there can be more difference between two male cyclists than between a male and a female cyclist. Gender alone doesn't provide enough data to specialize. It means that separating bikes as male or female is arbitrary and outdated. With this in mind, we've developed a geometry that's best-fit for all riders—one that's comfortable, snappy, and handles like a dream.
Rám: FACT 11r carbon, Open Road Geometry, front/rear thru-axles, fully integrated down tube battery, internal cable routing, fender/rack mounts, Boost™ 12x148mm
Motor: Specialized SL 1.1, custom lightweight motor
Vidlice: Future Shock 2.0 w/ Smooth Boot, Boost™ 12x110mm thru-axle, flat-mount disc
Brzdy: Shimano 105, Hydraulic disc
Kliky: Praxis Alloy Cranks
Přehazovačka: Shimano Deore XT Di2, Shadow Plus, 11-speed
Ráfky: Roval C 38 Disc, carbon, tubeless-ready, 38mm depth, 24h
Řazení přední: Shimano Ultegra Di2 Disc R8070
Řazení zadní: Shimano Ultegra Di2 Disc R8070
Pláště: Specialized Turbo Pro, 700×30
Sedlo: Body Geometry Power Expert
Baterie: Specialized SL1-320, fully integrated, 320Wh
Kapacita baterie: Specialized TCU, 10-LED State of charge, 3-LED Ride Mode display, ANT+/Bluetooth®, Road Remote
Nabíječka: Custom charger, 48V System w/ SL system charger plug
Sídlo & Showroom
Showroom s elektrokoly
a příslušenstvím.
Součástí našeho sídla je i prodejna elektrokol, servis a prezentace příslušenství,  jako jsou stojany, nabíječky, GPS moduly a software.
Kontaktujte nás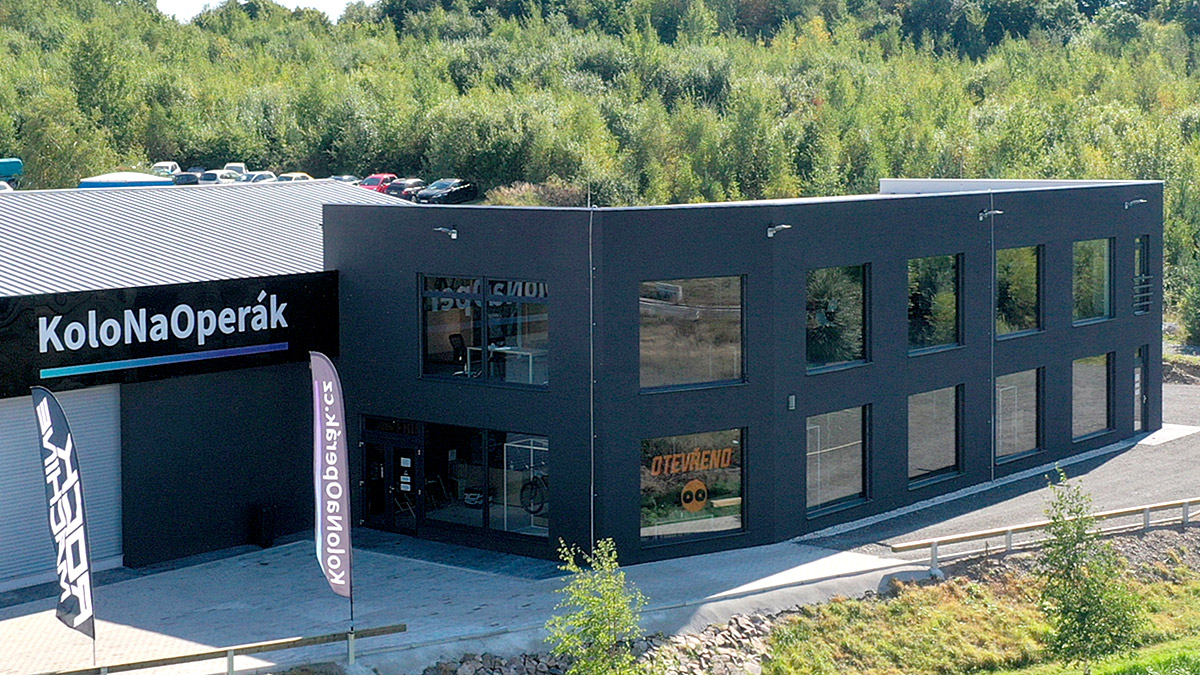 Kde koupíte kola na operák?
Využijte odběrná místa našich partnerů
Připravili jsme pro vás přehlednou mapu s místy, kde si můžete zakoupit a vyzvednout vaše nové kolo na operativní leasing.
Přejít na mapu
Potřebujete více?
Pro vaši flotilu dále zajistíme:
držáky
a stojany
nabíječky
a stanice
GPS
moduly
elektronickou
knihu jízd
mobilní
servis
uskladnění
na zimu