Specialized Turbo Levo Expert Carbon 2021 Cobalt Blue
?
The price contains loan payments and bicycle insurance
24 monthly instalments
Description
Zcela nový model S-Works Turbo Levo je v řadě Turbo Levo tím nejvýraznějším. Model z nejvyšší řady je vybaven karbonovým rámem s asymetrickým designem Sidearm. Kromě tohoto ohromujícího rámu jsme přidali 150 mm odpružení, nejplynulejší a nejvýkonnější motor, novou 700Wh baterii, která zvyšuje váš dojezd o 40%… a to je jen začátek. • Jak Vám můžeme poskytnout to nejlepší za pár korun? Ušetřili jsme zásadní gramy díky použití karbonového trojúhelníku a náklady jsme podrželi dole pomocí zadního dílu ze slitiny premiového hliníku M5. Tím je Levo nejen lehké, ale také tuhé a citlivé. Toto kolo jsme navrhli, aby se na něm dalo pořádně vyblbnout, proto jsme zvolili nízký střed, dlouhou horní rámovou trubku a krátké řetězové vzpěry. Také jsme vylepšili kinematiku rámu, aby bylo odpružení citlivější i na malých nerovnostech a přesto bylo schopno zvládnout velké nárazy, aniž byste škrtali o zem. • Zakázkově vyrobený motor Specialized 2.1 představuje vrchol v technologiích e-kol. Nový motor je účinnější, o 15% menší a o 11% lehčí než jeho předchůdce. Má mnoho funkcí, které žádný jiný e-bike nemá, jako například okamžité spínání motoru, perfektní chlazení, dvojitou volnoběžku, která odpojí převodovku, když dosáhnete nejvyšší rychlosti, motor je tichý, hladký a má konzistentní chod – dokonce i při maximálním výkonu. • Jednotka kola Levo – Turbo Connect Unit (nebo "TCU") je více než jen tlačítko "On-Off" – je to mozek celého kola. TCU zobrazuje stav baterie a asistenta režimů. Komunikuje také prostřednictvím ANT + / Bluetooth® s naším displejem na řídítkách, aby Vám zobrazoval ještě více informací o jízdě. • Nová baterie kol Turbo Specialized M2 má kapacitu 700Wh, což zvyšuje dojezd o ohromujících 40%. Takto výkonná baterie je neviditelně integrována v rámu a lze ji během několika vteřin snadno vyjmout pomocí jednoho imbusového klíče.
Rám: FACT 9m Carbon w/ M5 alloy rear triangle, 29 Trail Geometry, Integrated down tube battery, enclosed internal cable, dropper post routing, 148mm spacing, fully sealed cartridge bearings, 150mm of travel
Motor: Specialized 2.1, custom Rx Trail-tuned motor, 250W nominal
Zadní tlumič: Fox Float DPS Performance Elite, 3- position adjustment, 52.5x210mm, Rx Trail Tune
Vidlice: Fox Float 36 Performance Elite, Grip2 damper, 160mm, 51mm rake, HSC, LSC, HSR, LSR, Kabolt axle
Brzdy: SRAM Code RS, 4-piston caliper, hydraulic disc, S/M: 200mm, L/XL: 220mm • SRAM Code RS, 4-piston caliper, hydraulic disc, 200mm
Kliky: Praxis forged M30, custom offset
Přehazovačka: Sram X01 Eagle, 12-speed
Ráfky: Roval Traverse 29 Alloy, 30mm inner width, hand-built, 2Bliss Ready
Řazení přední: SRAM XO1 Eagle trigger, 12-speed, single click
Řazení zadní: SRAM XO1 Eagle trigger, 12-speed, single click
Pláště: Butcher, GRID TRAIL casing, GRIPTON® compound, 2Bliss Ready, 29×2.6
Sedlo: Bridge Comp, Hollow Cr-mo rails, 155/143mm
Baterie: Specialized M2-700, integrated battery w/rock guard, 700Wh
Kapacita baterie: Specialized TCU, 10-LED State of charge, 3-LED Ride Mode display, ANT+/Bluetooth®
Nabíječka: Custom charger, 42V4A w/ Rosenberger plug
Headquarters & Showroom
Showroom with e-bikes
and accessories.
Part of our headquarters is also an e-bike shop, service and presentation of accessories such as stands, chargers, GPS modules and software.
Contact us
Evropská 125
261 01 Příbram
Czech Republic

www.kolonaoperak.cz
Show on map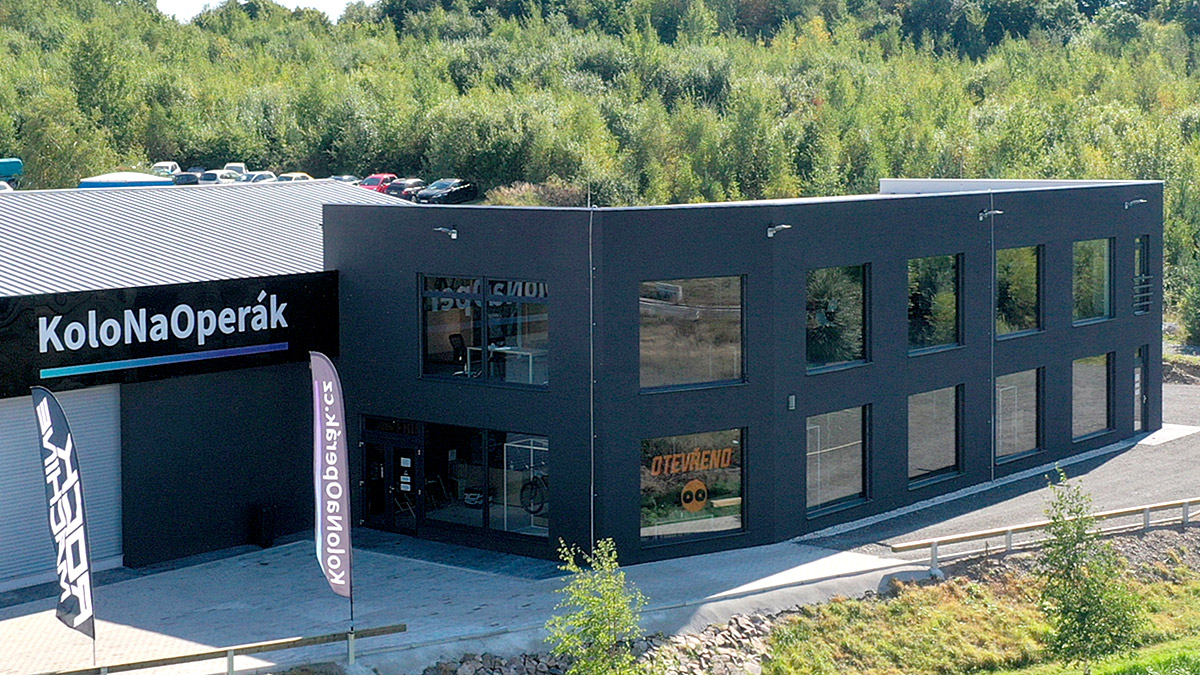 Where do you buy operational leasing bikes?
Take advantage of our partner's collection points
We have prepared a clear map with places where you can buy and pick up your new bike for operational leasing.
Go to map
Do you need more?
We can also provide your fleet with:
brackets
and stands
Chargers
and stations
GPS
modules
electronic
book rides
mobile
service
winter
storage