Elektrokolo Crussis ONE-Cross 9.6-S 2021
?
The price contains loan payments and bicycle insurance
24 monthly instalments
Description
RÁM: Alu 6061, velikost rámu 18″
VIDLICE: ROCKSHOX FS Paragon Gold RL R Solo Air 700c, zdvih 65 mm, uzamykatelná z řídítek
BATERIE: PANASONIC Li-Ion 36V / 630 Wh (17,5 Ah)
MOTOR: BAFANG M500, středový, 250W (max 500W), 95 Nm
UMÍSTĚNÍ MOTORU: Bafang – středový
OVLÁDÁNÍ: BAFANG LCD panel, 5 stupňů asistence, barevný displej
ŘÍDÍCÍ JEDNOTKA: Integrovaná v motoru
SNÍMAČ ŠLAPÁNÍ: torzní
NABÍJEČKA: 2 Ah (součást výbavy)
DOJEZD: až 150 km
PEDÁLY: WELLGO, alu s odrazkou
USB PORT: ano
ASISTENT CHŮZE: ano
POČET PŘEVODŮ: 1 x 12
PŘEHAZOVAČKA: SRAM SX Eagle, 12 rychlostí
ŘAZENÍ: SRAM SX Eagle
ŘETĚZ: SRAM Eagle SX 12s
KAZETA / VÍCEKOLO: SRAM CS-PG1210 Eagle, 11-50z
PŘEVODNÍK A KLIKY: SRAM X-SYNC 2 38Z / BAFANG 170 mm
PRŮMĚR KOLA: 28″
BRZDA PŘEDNÍ: SHIMANO Deore BR-MT410, hydraulická, rotor 180 mm
BRZDA ZADNÍ: SHIMANO Deore BR-MT410, hydraulická, rotor 160 mm
RÁFKY: CRUSSIS 28″, dvoustěnné, vložkované, 25mm
NÁBOJE: CRUSSIS disc, ložisko věneček, 32D
PLÁŠTĚ: SCHWALBE Energizer Active Plus 28 x 2,00
NOSTNOST: 120 kg
ŘÍDÍTKA: CRUSSIS Al, 700 mm
PŘEDSTAVEC: CRUSSIS Al, 105mm
GRIPY: CRUSSIS, 100% silikon
HLAVOVÉ SLOŽENÍ: Semi 1 1/8
SEDLO: Selle ROYAL
SEDLOVÁ OBJÍMKA: CRUSSIS s RU Al, černá 34,9
SEDLOVKA: CRUSSIS se zámkem, 31,6 / 350 mm
Headquarters & Showroom
Showroom with e-bikes
and accessories.
Part of our headquarters is also an e-bike shop, service and presentation of accessories such as stands, chargers, GPS modules and software.
Contact us
Evropská 125
261 01 Příbram
Czech Republic

www.kolonaoperak.cz
Show on map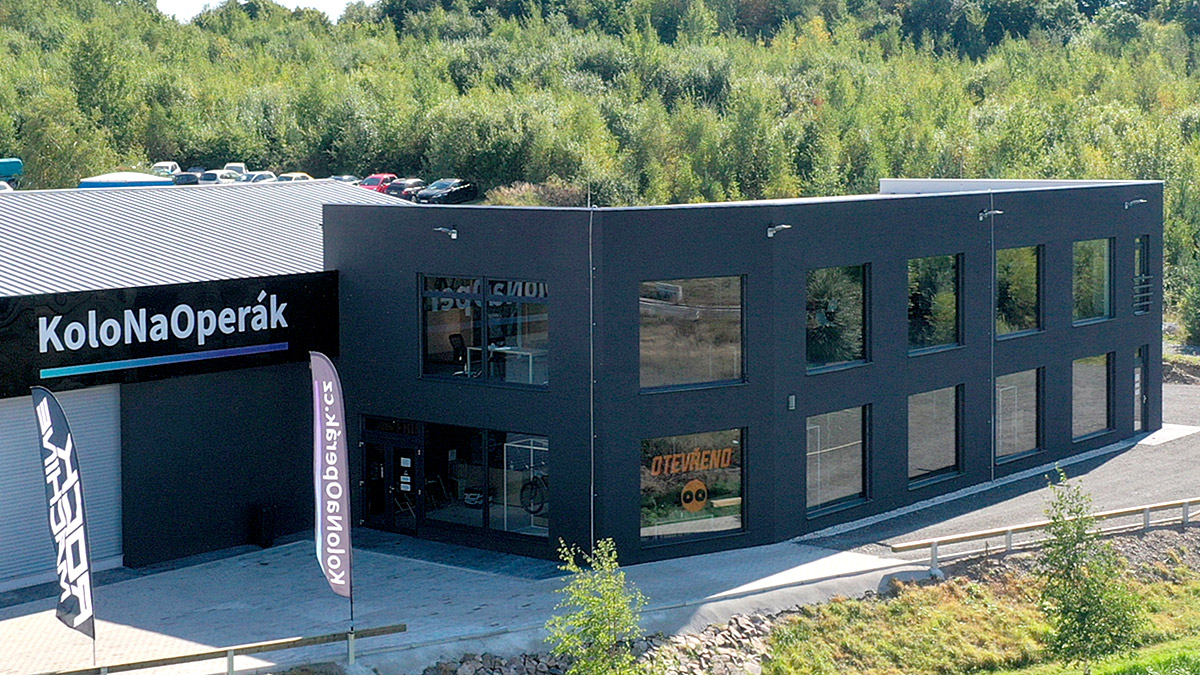 Where do you buy operational leasing bikes?
Take advantage of our partner's collection points
We have prepared a clear map with places where you can buy and pick up your new bike for operational leasing.
Go to map
Do you need more?
We can also provide your fleet with:
brackets
and stands
Chargers
and stations
GPS
modules
electronic
book rides
mobile
service
winter
storage