Crussis e-Largo 8.7-S 2022
?
The price contains loan payments and bicycle insurance
24 monthly instalments
Description
 
Elektrokolo Crussis e-Largo 8.7-S jsme vyvinuli právě pro vás, pro vaše výlety přírodou, cestou necestou, po rovinách, přes kopce i na toulání po horách, po místech, kam jste se třeba se svým kolem ještě neodvážili.
Pánské horské elektrokolo e-Largo 8.7-S se silnější baterií je určeno pro jízdu v terénu, ale bez problému zvládne i silnici nebo cyklostezku. Záleží jen na vás. Od svého kolegy e-Atland 8.7-S se liší velikostí kol – dodávaný je na 29" kolech. 
Geometrie hliníkového rámu zajišťuje skvělou stabilitu a ovladatelnost e-biku, k čemuž přispívá rovněž silná baterie s Li-Ion články Panasonic 36V / 630 Wh (17,5 Ah). Ta je do rámu elektrokola plně integrová­na. Praktické, funkční a k tomu oku lahodící design. Co více si přát?
Snad dojezd a spolehlivost. O to se stará středový elektromotor BAFANG MAX drive (M400), o nominálním výkonu 250W (max 500W), s kroutícím momentem 80 Nm. Použití středového elektromotoru u tohoto modelu přispívá velkou měrou k ideálnímu vyvážení elektrokola – jde o moderní řešení používané u vyšších řad e-biků po celém světě.
Dojezd e-kola je 150 km – zde samozřejmě vždy záleží na profilu trati a způsobu využití asistence, která je v případě tohoto modelu pětistupňová. A jak vlastně asistenci ovládáte? Jako u většiny elektrokol prostřednictvím LCD displeje umístěného na řídítkách. Barevný displej zobrazuje stav baterie, zvolený stupeň asistence elektromotoru, rychlost a ujetou vzdálenost.
Elektrokolo je vyráběno na kolech o velikosti 29", které jsou v případě horských kol dnes již nezbytným standardem, a ve velikostech rámu 18" a 20". Řazení obstarává špičková dvanáctirychlostní sada SRAM Eagle SX 12s a jízdní komfort vám zpříjemní kotoučové hydraulické brzdy SHIMANO Deore BR-MT410 nebo SRAM Level, odpružená vidlice ROCKSHOX FS Judy Silver TK Solo Air 29″, jak název napovídá je vybavena vzduchovým tlumením a disponuje zdvihem 100 mm. 
Kola jsou obuta do bikových plášťů MAXXIS ARDENT 29 X 2,40, tudíž se nemusíte bát, že by o přilnavost elektrokola v terénu nebylo postaráno.
E-kolo je dodáváno bez blatníků, osvětlení, stojánku aj. Ty však lze ke kolu bez problémů dokoupit a následně namontovat. Naopak součástí vybavení je USB konektor pro dobíjení mobilních zařízení.
Tak co myslíte? Chcete vyrazit tam, kam se s normálním kolem nedostanete? Šlápněte do pedálů, elektrokolo Crussis e-Largo 8.7-S je připraveno vyrazit s vámi!
Headquarters & Showroom
Showroom with e-bikes
and accessories.
Part of our headquarters is also an e-bike shop, service and presentation of accessories such as stands, chargers, GPS modules and software.
Contact us
Evropská 125
261 01 Příbram
Czech Republic

www.kolonaoperak.cz
Show on map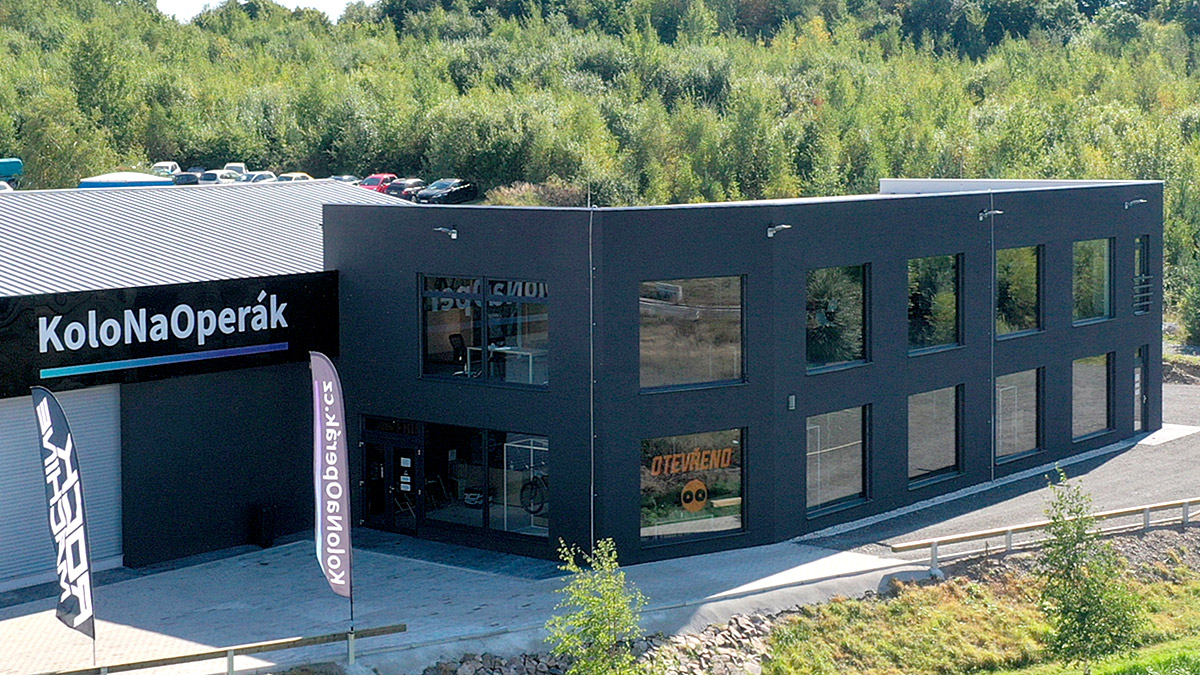 Where do you buy operational leasing bikes?
Take advantage of our partner's collection points
We have prepared a clear map with places where you can buy and pick up your new bike for operational leasing.
Go to map
Do you need more?
We can also provide your fleet with:
brackets
and stands
Chargers
and stations
GPS
modules
electronic
book rides
mobile
service
winter
storage